Olson's Tack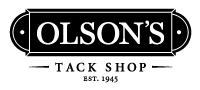 Olson's Tack Saddlery
The mainstay English riding store in the Pacific Northwest
Since 1945 Olson's has been a mainstay English riding store to equestrians in the Pacific Northwest. Today as an equestrian retailer, we serve customers all over the globe.
Located in our original location in the heart of Bellevue. Carl Olson started the business upon returning from World War II in 1945. While he and his wife raised their family upstairs, they used the downstairs to make custom saddles, chaps, and other goods that were generally used around the farms of Bellevue.
Over the years they developed the business to include showing apparel and gear. In 1978 Joyce Gilpin purchased the business and evolved it into a specialty English riding store and destination. In 2003, Mike Akers purchased the business from her and runs it today with his husband Jason.
Address
11408 NE 2nd Pl
WA 98004, BELLEVUE, Washington, US